Marketing
Best of 2017: Patagonia Reinforces Its Mission, Wins As the Year's Most Socially Conscious Brand
Posted On December 7th, 2017 | 4:50pm EST
This week, outerwear icons Patagonia had a historic win in integrity when they protested Trump's decision to shrink two of Utah's most precious natural land monuments. When other clothing brands — and brands, in general — were neck deep in strategic holiday sales messages, Patagonia overhauled their website to feature this message: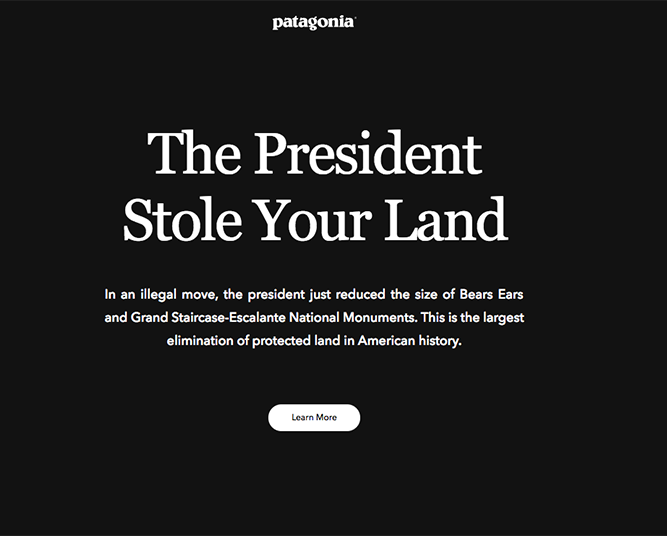 And with it, they beat out every other brand doing business as usual this December.
Patagonia used their precious "buy! buy! buy!" space to reinforce their mission when it was needed most: "To build the best product, cause no unnecessary harm, use business to inspire and implement solutions to the environmental crisis." And because of their bold delivery — and the action they put behind it — the world caught on and applauded them for a job well done.
We've talked about brand identity and maintaining integrity, but Patagonia's statement is the proof-of-concept. According to The New York Times, the company plans to file a lawsuit against this unlawful act, adding action to their statement. Outerwear retailers like North Face and REI are also following suit by donating money and fighting against public land cuts.
This month, we're highlighting some of our favorite brand concepts and campaigns – the stuff that really moved us this year. And we've got to say, Patagonia is very, very high up on that list to date; a #win in every sense. Click here to learn how you can add your voice to their message.